Business Intelligence Software
Business Intelligence Software for Startups by Sagedata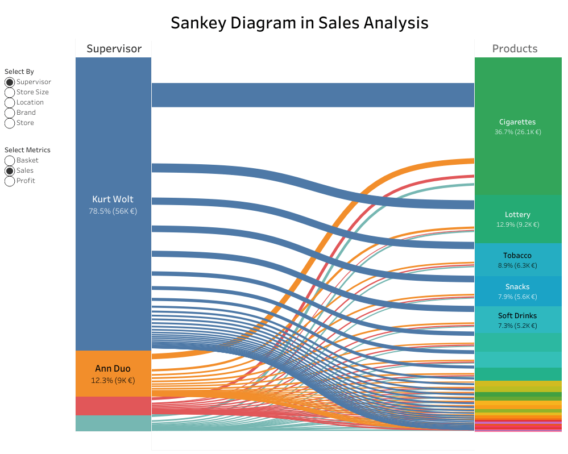 For over 20 years, SageData has been providing startups with business intelligence and analytics software that helps them create different visualised reports, track performance and objectives, and run their business better. Our team of professionals is here to assist you in your journey of creating a business intelligence solution that is as unique as your business.
This is easily achievable, considering that our solutions are always specifically tailored to your business' needs. Your business objectives, the way your business is structured, and all other specifics are taken into consideration when your solutions are being developed by our experts. We can cover many industries, including:
Energy;
Manufacturing;
Banking;
Law firms;
Consumer;
Travel;
Public Sector
To assure that customization is always available and applicable to each and every startup, no matter its niche, we have a collection that contains more than 100 data integrations that are used for bringing your data together.
You can also rely on our customized Data Warehouse, developed by our Data Engineers, or you can add your own Data Warehouse. Whatever fits your needs best.
Why do startups need a complete Business Intelligence Software?
If you are working for a startup, or if you are the owner of one, you know how difficult it is and how much work has to be done until you make it big. However, no matter the industry, success comes to those who not only work hard, but also work smart.
Therefore it is important to do whatever it is in your power to save more time, accelerate the decision-making process and track your business' overall performance.
This is where business intelligence software solutions come to the rescue. But why is having software for business intelligence a definite must for every startup?
Here are some of its most remarkable benefits:
Collects, analyzes and gives back important reports that are key for how your business operates;
Gives you access to all data dashboards in real-time whenever you want and on any device you want;
Lets you track all important KPIs and your business' performance on a daily, weekly, monthly and even yearly basis;
Alleviates and accelerates the decision-making process and saves you time to focus on achieving your goals instead;
Creates visually pleasing, engaging and comprehensible reports in order to lessen the possibility for misunderstandings and errors among team members;
Gives you insight into the conversion funnel and shows you where visitors usually drop off;
Allows you to connect your social media accounts to check whether your content is performing well;
Saves your company money in the long run.
There are three integral steps that any business intelligence and analytics software follow. Those are Data Collection, Data Manipulation and Data Visualisation.

This is the process where information and all the business data are collected through Integrations that you've previously connected your business with.

After the data is collected, information is transferred to the Data Warehouse. There, analytical processes such as Cohort Analysis, Machine Learning, Data Aggregation, Anomaly Detection, Forecasting and Data Science take place.

This software as a service for Business Intelligence is key as it helps with the easier comprehension of the available information. You get organized reports with customizable graphics to correspond with your brand identity.
Core Aspects of SageData's BI Software
Below you can learn more about the core aspects of our Business Intelligence Software.
KPI Dashboard
KPIs show you how your business is operating, are there any unforeseen obstacles, how close you are to achieving your monthly goals, or even how your employees are performing their tasks. You can check your indicators in real-time whenever you wish.
Management Reporting Software
Our Management Reporting Software makes the report creation process much easier, faster and efficient. There are no limitations as to what kind of reports you can create or the amount of people you can share them with. As long as it's needed for your business, you can make different reports, including budget reports, time tracking reports, team availability reports, social media analysis reports etc.
Business Analytics
This software follows the skills and technologies of past business performance in order to gain insight on how to make a good business plan for the present moment.
ERP – Enterprise Resource Planning
The purpose of this software as a service to business intelligence is to create a working system that runs all business operations in your organization, no matter its size. Thanks to this, software resource planning is easily integrated in the company's processes on all levels. Each department has its systems but they can all be accessed through one application.
Predictive Analytics
We use all collected and provided data to predict the likelihood of possible future outcomes. This is all thanks to statistical algorithms and machine learning techniques. It is used for identifying possible risks and opportunities.
Event tracking
It is used to keep track of the events a visitor undertakes while being on your website or application. This helps with identifying visitor behavior. It also shows you what changes must be made to your business software to make users take the action you would like them to. Here in the definition of event lies clicking a button, opening an email, a user loading a page, or a user making a transaction.
Anomaly Detection
Our Anomaly Detection module checks your data for anomalies and notifies you of any inconsistencies in your time-series data. This is a very helpful tool as it gives you peace of mind. It comes in handy when monitoring any of the following:
Sales;
Users Actions -conversions;
Quantities of transactions;
Website visitors.
KPIs you can find in your Report
Depending on what your niche and needs are, you can customize your dashboard to show you a huge variety of indicators and metrics. While 'Cost of Hiring' or 'Average Revenue Per Paying User' are specific KPIs, there are many common and popular metrics, applicable to most industries, like:
ROI % on advertising spent (ROAS);
CPC – Cost per Click;
CPI – Cost per Impression;
CPM – Cost per thousand Impressions;
Bounce Rate;
Conversions;
Leads;
Frequently Asked Questions